Highest return on equity over three years & Highest Returns to Shareholders over three years
REIT
Atrium REIT - A resilient, sustainable industrial focus
Esther Lee / The Edge Malaysia
September 26, 2022
Atrium Real Estate Investment Trust (REIT), which is focused on industrial assets, has been named winner of both the Highest Returns to Shareholders Over Three Years and Highest Return on Equity Over Three Years for the REIT sector under The Edge Malaysia Centurion Club Corporate Awards 2022.
Atrium REIT's unit price has gained 35% between Dec 31, 2018, at RM1.11 per unit, and Dec 31, 2021, at RM1.50 per unit. Notably, most of the gains took place in 2020 and 2021, after the stock dipped to a low of 70.5 sen (adjusted close) on March 23, 2020 — days after the Malaysian government announced the first Movement Control Order, following the Covid-19 outbreak. It soon rebounded and reached as high as RM1.43 (adjusted close) on June 16, 2021 — the peak seen during the awards' assessment period.
At the time of writing at the start of September this year, Atrium's unit price was hovering around RM1.41, giving the REIT a market capitalisation of RM348.68 million.
Those who invested in the company in 2019 would have by end-2021 seen an adjusted shareholder returns of 18.7% over the three-year period based on the awards methodology, which is an impressive feat for the sector it is in.
Part of Atrium's strength is having assets in prime industrial locations such as Shah Alam and Bayan Lepas, which keep the REIT's properties in high demand because of the ease of access of these locations and available infrastructure. Atrium's REIT properties are also Grade-A industrial properties with high specifications, giving it an added value proposition to attract tenants. According to the REIT's 2021 annual report, its properties are all fully occupied.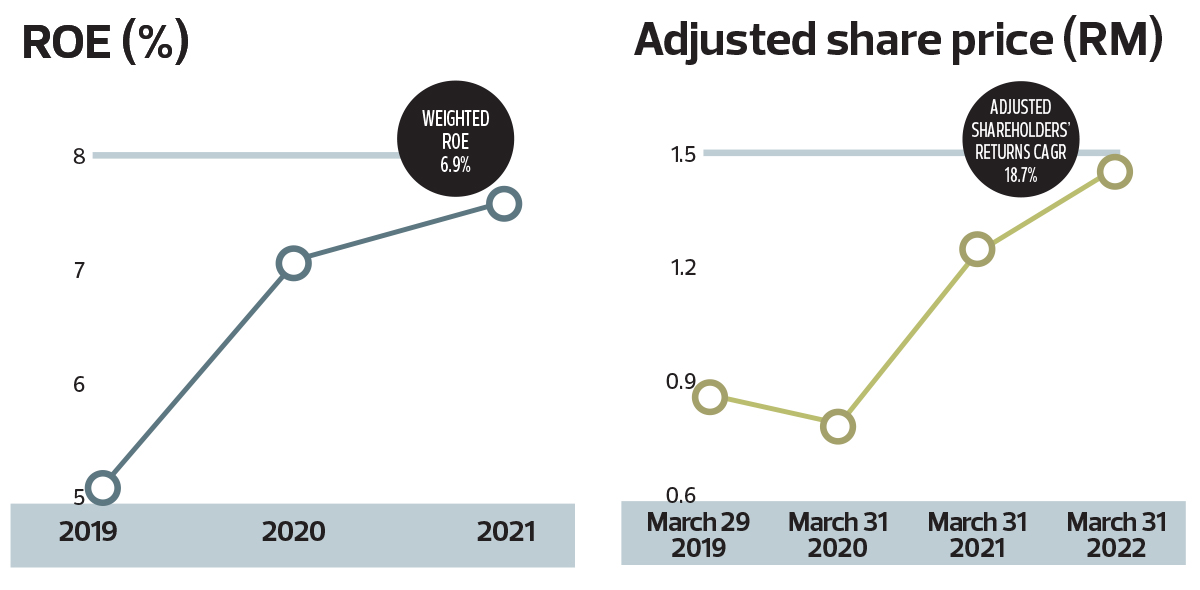 In the report, Atrium REIT says the industrial property market was not too deeply affected by the pandemic compared to other businesses. In addition, it was able to capitalise on government initiatives such as the National Economic Recovery Plan that were introduced to help give the local pandemic-hit economy a boost.
"The tax incentives introduced have helped most of the business sectors and we remain confident of a continued positive outlook for Atrium REIT," it says.
In terms of return on equity, Atrium achieved a weighted average ROE of 6.9% from 2019 to 2021, based on the awards methodology, with ROE improving from 5% in 2019, to 7.1% in 2020 and 7.6% in 2021.
This is thanks to the REIT's steadily improving net profit, which grew from RM9.9 million in FY2018 to RM11.1 million in FY2019, and further to RM18.8 million in FY2020, and RM20 million in 2021.
The REIT's distribution per unit (DPU), which dropped from 8.1 sen in FY2018 to 6.63 sen in FY2019, climbed to nine sen in FY2020, and 9.75 sen in FY2021.
In terms of distribution yield, it has stayed above 6% from FY2019 to FY2021. The yield totalled 6.38% in FY2019, and rose to 7.83% in FY2020, before dipping to 6.5% in FY2021.
In all three years, the distribution yield is notably higher than the returns an investor might get from the Employee Provident Fund's dividend yield, which dipped from 5.45% to 5.2% in the same period, and the typical 12-month fixed deposit rate, which dropped from 3.5% to 1.75%.
For the six months ended June 30, 2022, Atrium REIT booked an unaudited net profit of RM10.94 million, down 8.4% from RM11.93 million a year ago, as it recorded lower profit, following an adjustment for rent-free amortisation during the period. Net rental income dipped to RM17.76 million from RM18.14 million. Other income also dropped to a negligible RM300 from RM500,000, because the previous corresponding period had recorded part of the settlement it received from a trade debtor, following a consent judgement in its favour.
The REIT manager says it remains cautious because of the uncertainties surrounding the economic recovery due to Covid-19, notwithstanding its transition to endemicity as well as inflationary pressure.
"Despite the uncertainties and the challenging market conditions, Atrium REIT's portfolio of properties remains resilient and is expected to continue delivering sustainable performance for 2022," it said.