Highest growth in profit after tax over three years
PROPERTY
Eupe Corp Bhd - Successful expansion into Klang Valley property market
Intan Farhana Zainul / The Edge Malaysia
September 26, 2022
Kedah-based developer Eupe Corp Bhd's expansion into the Klang Valley property market has proved to be successful.
Over the past three years, the property developer has shown strong earnings growth despite the challenging market conditions, including a high number of unsold units, persistent downward pressure on property prices and the unprecedented Covid-19 pandemic that started in early 2020.
Despite the harsh operating environment, Eupe Corp recorded an impressive earnings growth — a compound annual growth rate (CAGR) of 15%, the highest among its peers with a market capitalisation below RM1 billion — during the three-year period in review (2019 to 2021). As a result, it bagged the award for Highest Growth in Profit After Tax under the property sector at The Edge Malaysia Centurion Club Corporate Awards 2022.
Eupe Corp's profit after tax ballooned to RM42.2 million in the financial year ended Feb 28, 2021 (FY2021) from RM33.9 million in FY2020, which was then the record, and RM30.3 million in FY2019.
FY2021 is the best performing year so far in Eupe Corp's history. Its earnings per share soared to 32.96 sen from 26.45 sen in FY2020. The group's net gearing ratio of less than 0.01 times at end-February 2021 reflects its commitment to leveraging with borrowings, yet practising effective cash flow management.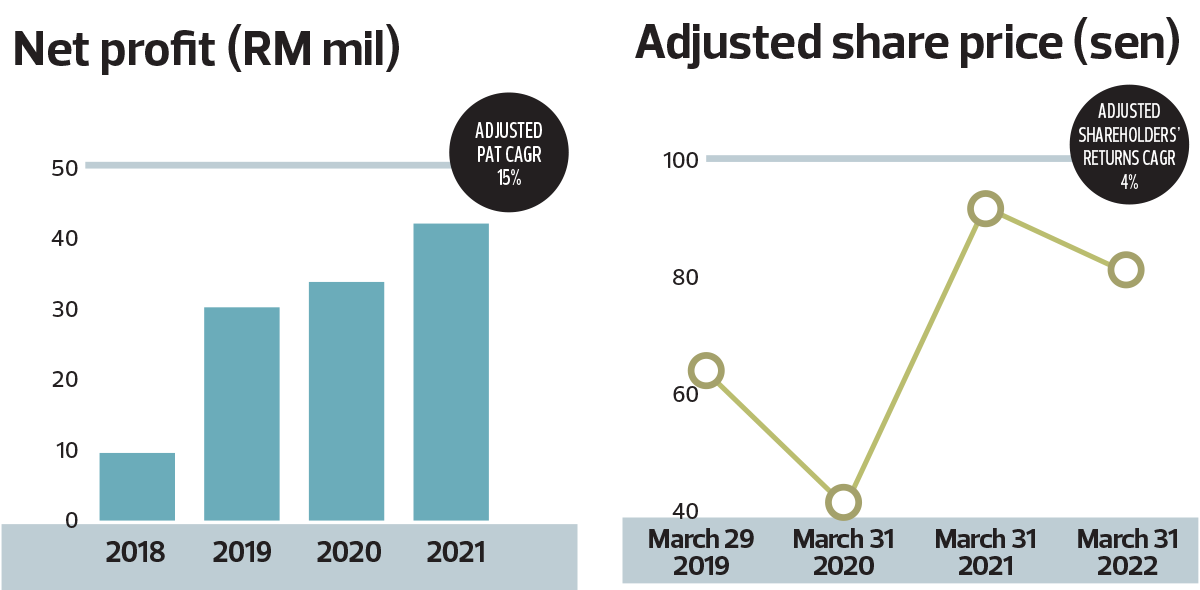 Its property development division reported a higher total annual revenue of RM289.3 million compared with RM276.1 million in FY2020. The division's pretax profit increased by RM13.6 million, or 18.3%, to RM88.1 million in FY2021 from RM74.5 million in FY2020.
The group's rather impressive earnings growth during the period in review was driven by its first two projects in Kuala Lumpur. Eupe Corp launched its first property project, dubbed Novum, in Bangsar South in 2016. Its gross development value (GDV) was RM555 million.
Its second project in the Klang Valley was Parq 3 in Cheras, in the southern part of
Kuala Lumpur. Launched in 2017, the high-rise residential project, which sits on a 2.73-acre leasehold land in Taman Pudu Ulu, had an estimated GDV of RM495 million.
The group has launched four property projects in the Klang Valley to date. Its property division focuses on two regions — the Klang Valley, where it focuses on high-rise residential projects, and Kedah, where it develops and sells township residential developments for a range of market segments.
Eupe Corp was founded by Datuk Beh Heng Seong and Datuk Wira Tajudin Hashim in 1986. The former's wife, Datin Teoh Choon Boay, and son, group managing director Datuk Beh Huck Lee, are major shareholders of the company by virtue of their interest in Beh Heng Seong Sdn Bhd, which owns Betaj Holdings Sdn Bhd. Betaj Holdings owns a 23.48% stake in the group while Beh Heng Seong has 18.17% equity interest.
The development of Taman Ria was Eupe Corp's first project in 1986. The group then constructed 3,376 homes, making it one of the largest mass housing projects in northern Malaysia at the time. To date, the group has built nearly 20,000 homes in Kedah.
Eupe Corp launched Est8 in Seputeh in November 2021. It has an estimated GDV of RM575 million.
The property developer was not spared from the adverse impact brought on by the Covid-19 pandemic. It saw a dip in earnings in FY2022, with its net profit declining to RM23.4 million from RM43.45 million in FY2021, on lower revenue of RM223.2 million from RM304 million previously.
In its 2022 annual report, the group managing director said that while he expected the Covid-19 pandemic to affect its FY2023 financial results, the group had put in place plans that would help boost its operations in the medium to long term.
"We have not allowed external events and the ongoing uncertainty to determine our future prospects and performance. Over the past 12 months, we have assembled a platform of new projects and operational efficiencies to re-establish our financial and operational momentum and sustain it into the longer term," he added.
In May 2022, Eupe Corp secured a 4.812-acre parcel along Jalan Damansara and Jalan Belfield in the residential development of Kampung Attap, off Jalan Istana, for RM125 million cash. The group has earmarked the land for a mixed-use development with a potential GDV of RM1 billion, which is expected to be the biggest property project for the group.
The property developer has also bought 53.7 acres of land in Sungai Petani, Kedah, which will underpin the revenue and profit growth of its "northern division".