Highest return on equity over three years
INDUSTRIAL PRODUCTS & SERVICES
Comfort Gloves Bhd - A chapter of excellent performance 
Hailey Chung / The Edge Malaysia
September 26, 2022
The years 2020 and 2021 were certainly the highlights of Comfort Gloves Bhd's history, as it broke multiple records in these two years.
The glove manufacturer's revenue exceeded the RM1 billion mark for the first time and profit soared to the highest ever when global demand reached unprecedented heights as the world battled to curb the Covid-19 pandemic. The sudden surge in glove consumption resulted in capacity shortage, causing a steep rise in selling prices to a level that had not been seen before.
In the financial period ended Dec 31, 2021 (FPE2021), Comfort's revenue rocketed to RM1.39 billion from RM946.4 million in the financial year ended Jan 31, 2021 (FY2021). Its revenue was RM510.7 million in FY2020 and RM474 million in FY2019.
Comfort's profit after tax shot up to RM421.5 million in FPE2021, a 50% rise from RM280.2 million in FY2021.
The 11 months' net profit achieved in FPE2021 was almost 13 times more than the RM33.18 million Comfort earned in FY2020 and over 15 times its earnings of RM27.9 million in FY2019, which concluded before the global outbreak of Covid-19.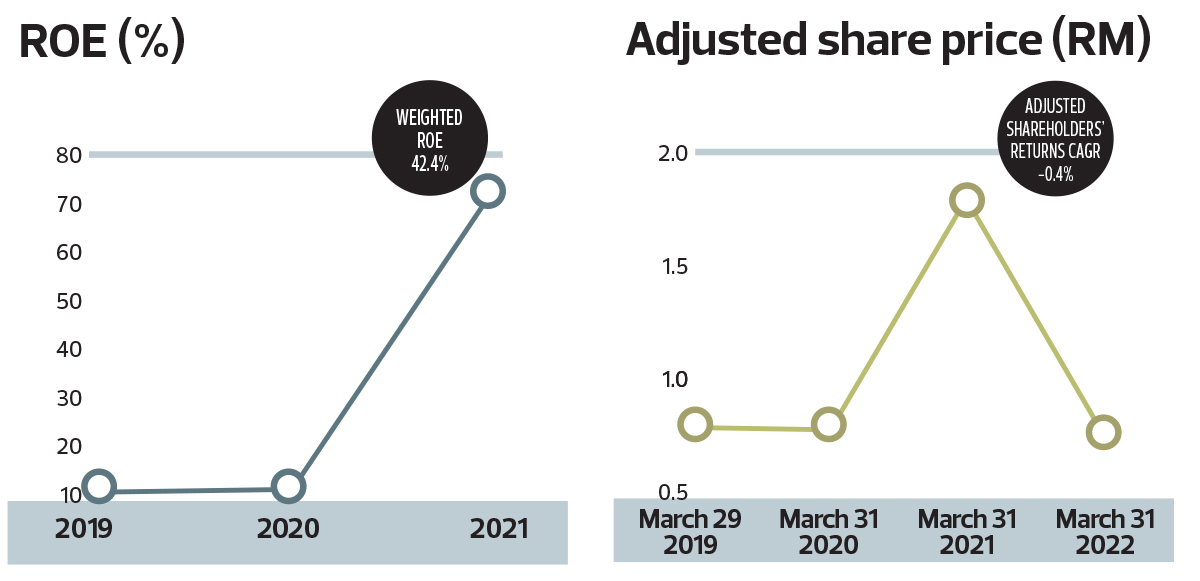 On Nov 26, 2021, Comfort announced a change in its financial year end to Dec 31, from Jan 31. As a result, there was an 11-month FPE2021 ended Dec 31.
It had said in a bourse filing that the change was made for better administrative and operational outcomes, as well as to better align the group's financial results and performance with other gloves companies operating in Malaysia for comparative clarity and transparency to shareholders and potential investors.
The methodology of the The Edge Malaysia Centurion Club Corporate Awards takes into account the performance in FPE2021 based on annualised figures for FY2020 and FY2019.
The handsome profit lifted Comfort's weighted average return on equity (ROE) to 42.4% over the period under review (between 2019 and 2021). Its high return has won the group The Edge Malaysia Centurion Club Corporate Awards for the highest ROE in the industrial products and services sector.
While making good profits, Comfort ensured that it rewarded its shareholders between 2019 and 2021.
The glove maker declared a total dividend per share of 14 sen in the three-year period, including six sen per share in FPE2021 and 6.5 sen per share in FY2021. This translates into a total dividend payment of RM81.43 million for the three years.
Notably, Comfort's cash pile expanded in tandem with the big jump in earnings, particularly during the three-year period under review. Its cash balance swelled to RM221.35 million as at Dec 31, 2021, nearly 10 times higher than RM23.37 million as at end-January 2019.
According to filings with Bursa Malaysia, Comfort's cash and cash equivalents stood at RM302.6 million (unaudited) as at June 30, 2022, which was equivalent to 51.9 sen per share based on an issued share capital of 582 million shares. The company's share price closed at 50 sen on Sept 15.
Comfort's share price has been on a decline, along with the overall glove industry, as the country transitions into the endemic phase. The stock's last peak was RM5.08 on Oct 19, 2020.
In the results release for the second quarter ended June 30, Comfort acknowledged that the rubber glove industry was undergoing a paradigm shift, owing to oversupply conditions. As such, demand in the glove market remains weak.
The group also pointed out that the implementation of the new minimum wage order, elevated gas prices, the rise in other production costs, coupled with soft average selling prices, continue to pose challenges.
For the six months ended June 30, Comfort slipped into a net loss of RM6.93 million on revenue of RM376.19 million.
Nonetheless, the company believes the increased awareness of hygiene and safety globally, a rise in the incidences of infectious and chronic diseases, and strict regulations in place pertinent to the use of personal protective equipment are fuelling the demand for gloves.
"With this phenomenon, glove demand is expected to grow steadily. The group remains optimistic towards its long-term prospects and continues to build on and maintain a solid foundation to ensure that it is well positioned to seize market opportunities and continue to develop and succeed in the years ahead," it said.
Comfort exports its products to North America, Oceanic countries, the Middle East, Europe, South America, Africa and Asia-Pacific.