Highest return on equity over three years & Highest growth in profit after tax over three years
TRANSPORT & LOGISTICS
Harbour-Link Group Bhd - Doing well without creating any ripples
Jose Barrock / The Edge Malaysia
September 26, 2022
Sarawak's Bintulu-based shipping and integrated logistics player Harbour-Link Group Bhd has been named the winner of the Highest Growth in Profit After Tax (PAT) Over Three Years and Highest Return on Equity (ROE) Over Three Years for the transport and logistics sector in The Edge Malaysia Centurion Club Corporate Awards 2022.
Harbour-Link, which is run by managing director Datuk Yong Piaw Soon, who controls 63.39% of the company, reported a net profit of RM35.9 million for its financial year ended June 30, 2018 (FY2018). Though the group's net profit dropped 30.4% to RM25 million in FY2019, it rose to RM25.9 million in FY2020, and then soared 134% to RM60.6 million in FY2021.
This worked out to an adjusted PAT compound annual growth rate (CAGR) of 11.4% over the three-year evaluation period, based on awards methodology. Its adjusted CAGR for shareholder returns during the same period came in at 9.8%.
Despite the strong numbers, Harbour-Link is neither a well-known nor well-followed counter, while its market capitalisation as at end-March was only RM454.4 million.
Harbour-Link's net asset per share as at end-June was RM1.53, higher than its share price, which was at the RM1.33 band at the time of writing. Then again, management's indifference to the lacklustre share price could stem from them not looking to sell or exit the company anytime soon.
According to Harbour-Link's annual report for FY2021, the better financials were attributable to its shipping and marine division.
"The significant increase in the profit before tax is largely due to improvement in the freight rate and better utilisation of shipping space from intra-Asia trade."
The company adds, "The global shipping industry enjoyed a boom phase for the first quarter of calendar year 2021, with global container freight rate indices topping US$5,000 per 40ft container in February 2021 after climbing steeply and steadily since May 2020
Favourable conditions for global carriers could persist over the longer term as well if, as many forecasters predict, a strong, demand-driven recovery materialises as more and more of the population gets vaccinated and the pandemic fades."
According to its annual report, Harbour-Link has 12 container vessels with a total carrying capacity of 6,200 TEUs (20-foot equivalent units), and has tugboats and barges that are largely used to transport sawn timber and logs within the Asean region — namely the Philippines, Vietnam and Thailand. It also has a fleet of prime movers used in the haulage industry.
The company has also ventured into property development via a 51% stake in Arcadia Properties Sdn Bhd, which is undertaking a mixed development — Kidurong Gateway [a commercial hub located at Tanjung Kidurong, or simply known as Kidurong, the main industrial core of Bintulu] — on a 50.8ha parcel that has been pegged with an estimated gross development value exceeding RM500 million.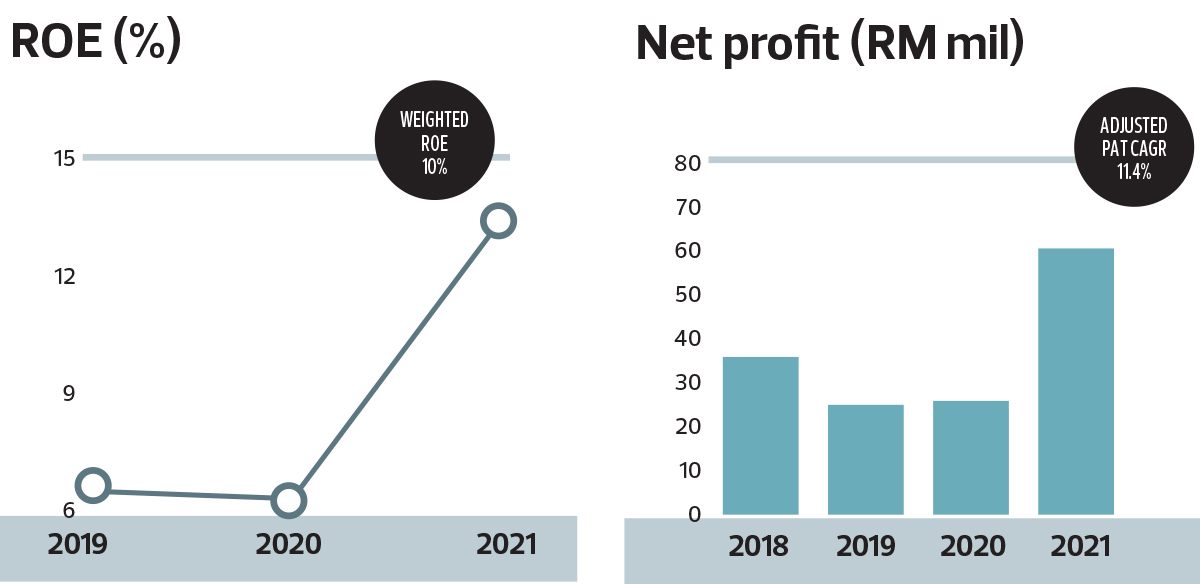 Thus far, all of Harbour-Link's business ventures seem to have paid off. Since Harbour-Link took over the listing status of Tongkah Holdings Bhd in early 2004, the company has managed to be profitable every single financial year.
Harbour-Link's ROE for FY2019 was 6.5%, which dipped slightly to 6.3% in FY2020, before jumping to 13.5% in FY2021. This translated to a weighted ROE of 10%.
While the group's strong FY2021 financial performance helped it bag accolades under The Edge Malaysia Centurion Club Corporate Awards 2022, its FY2022 is shaping up to be even better.
According to its unaudited results filed with Bursa Malaysia at end-August, it recorded a net profit of RM148.04 million for FY2022, 144.3% higher than what it made for FY2021, as revenue rose to RM871.2 million from RM609 million.
Harbour-Link attributes the significant improvement in earnings to "improvement in the freight rate and better utilisation of shipping space from intra-Asia trade and also one-off reversal of impairment of vessels of RM5.91 million".
As at end-June, Harbour-Link had cash and bank balances of RM249.77 million, and revenue reserves of RM414.37 million. On the other side of the balance sheet, it has short-term borrowings of RM42.64 million and long-term debt commitments of RM23.1 million.