Highest return on equity over three years
PLANTATION
Innoprise Plantations Bhd - All planted and primed for the commodity boom
Priyatharisiny Vasu / The Edge Malaysia
September 26, 2022
A rising tide lifts all boats. That may be the best aphorism to describe the fortunes of planters who have benefited from strong crude palm oil (CPO) prices since mid-2020, when the commodity started showing a significant upward trend.
Among them was Innoprise Plantations Bhd, which made a record-high net profit of 86.19 million for its financial year 2021 (FY2021), up by 136% from RM36.37 million for FY2020, as revenue rose 48% to RM230.34 million from RM159.94 million. Earnings per share leapt 18 sen from 7.6 sen.
In particular, Innoprise's back-to-back growth over the last three years in its return on equity (ROE) — which essentially measures how effectively management is using its assets to create profits — was impressive.
The Sabah-based planter recorded an ROE of 4.7% in FY2019, which jumped to 11.2% in FY2020 and climbed further to 26.2% in FY2021. The strong gains were reflected in its weighted ROE of 17.4% over the three-year evaluation period, based on the awards methodology, and won Innoprise recognition as the plantation company with Highest Return on Equity Over Three Years at The Edge Malaysia Centurion Club Corporate Awards 2022.
The company declared an interim dividend of 18 sen per share that amounted to RM86.2 million for FY2021, together with a special dividend of four sen per share or RM19.2 million. The total payout represented 122% of the group's profit after tax for FY2021.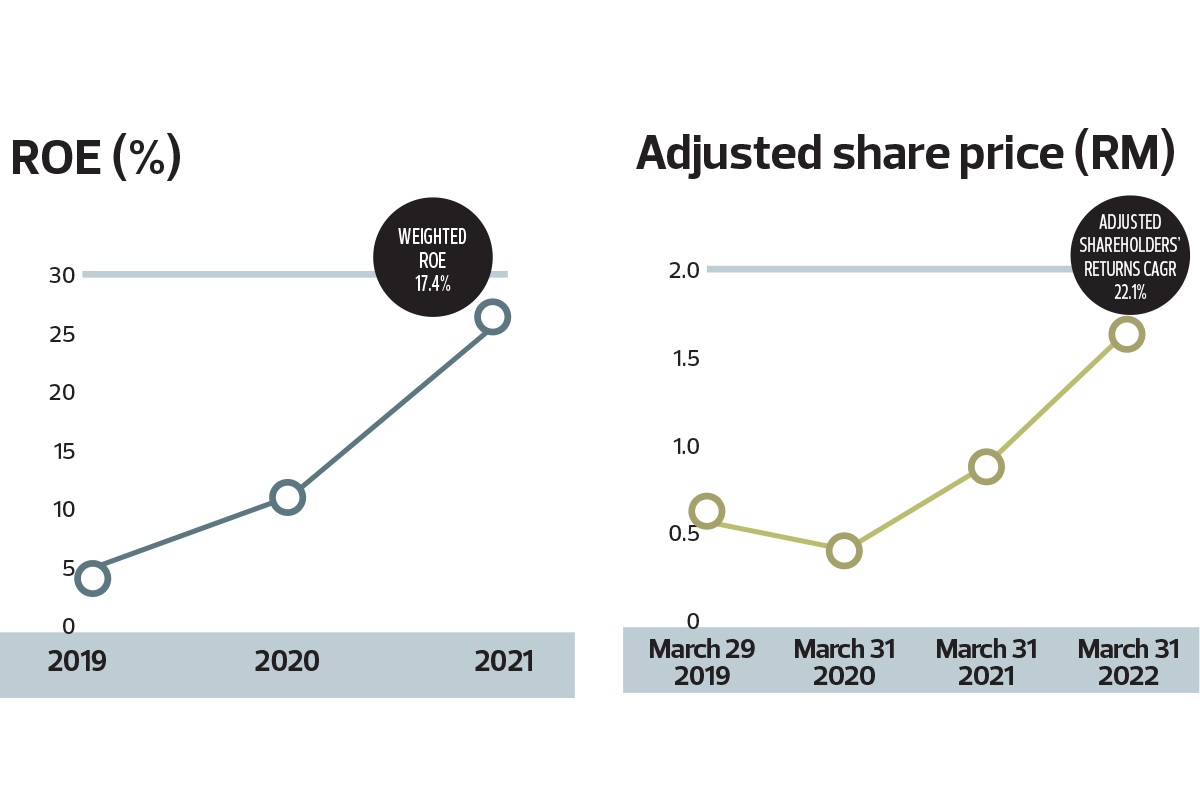 The plantation company produced 237,312 tonnes of fresh fruit bunches (FFB) in FY2021, up 1.47% from FY2020, mainly because it recorded higher hectares under harvesting and improved tree-age profiles. Yield per mature hectare improved to 20.46 tonnes in FY2021 from 20.33 tonnes in FY2020.
It has six estates — namely Imbak, Gunung Rara, Labau, Maliau, Lokan and Luasong — all in Gunung Rara/Kalabakan, Sabah. It also owns a palm oil mill with a capacity of 60/90 tonnes of FFB per hour.
According to Innoprise's 2021 annual report, 12,258ha of the group's total land bank of 22,763ha are suitable for oil palms and have been fully planted. The group's oil palms are aged between two and 14 years, 86% of which are prime mature palms (aged eight years and more), 9% being young mature palms (four to seven years) that will see increasing yield in the coming years, and 5% being immature palms. "As such, there will be no necessity for replanting for the next 10 years," it said.
For the first half of FY2022, Innoprise recorded a net profit of RM60.47 million, double the RM29.62 million it posted in the same period a year earlier, as revenue jumped 60.6% to RM153.19 million from RM95.39 million, according to the company's unaudited results filed with Bursa Malaysia at end-August. Innoprise said its earnings were lifted by a 54% jump in CPO prices and a 48% rise in palm kernel (PK) prices. FFB production grew 1% to 105,873 tonnes from 104,958 tonnes.
"2022 will still be an excellent year for the plantation sector as the CPO price is expected to maintain at a comfortable level. Given the current level of CPO and PK prices, the board is confident of achieving reasonably good profit in the coming quarter," said its management, adding that FFB production for the second half of FY2022 is expected to increase due to the seasonal trend, better yield and maturity age profile.
The group obtained its Malaysian Sustainable Palm Oil (MSPO) certification on June 21, 2019. It is also a member of the Roundtable on Sustainable Palm Oil (RSPO).
Yayasan Sabah, through its wholly-owned Innoprise Corp Sdn Bhd, is the single largest shareholder of Innoprise with a 50.22% stake.