Highest return on equity over three years
CONSUMER PRODUCTS & SERVICES
SEG International Bhd - Riding the crest of changing times
Lee Weng Khuen / The Edge Malaysia
September 26, 2022
After multiple lockdowns since the outbreak of the pandemic, SEG International Bhd (SEGi), which operates the SEGi Group of Colleges, welcomed students back to its campuses in mid-October 2021.
Evidently, Covid-19 is no barrier to the group as it took home The Edge Malaysia Centurion Club Corporate Award for the Highest Return on Equity (ROE) Over Three Years in the consumer products and services sector.
It delivered an ROE of 53.7% in FY2019, 42.7% in FY2020 and 36.5% in FY2021, bringing its three-year weighted ROE to 41.8%.
Set up over four decades ago, SEGi has 18,000 students across five campuses in the Klang Valley, Penang and Sarawak. The group has maintained its strong profitability despite the pandemic, mainly due to lower operating costs resulting from the transformation to digital processes in the face of challenging times.
SEGi recorded a profit after tax (PAT) of RM46.23 million in FY2021, 18% more than the RM39.18 million registered in FY2020, driven by efficient utilisation of assets and improvement in enrolment of new students.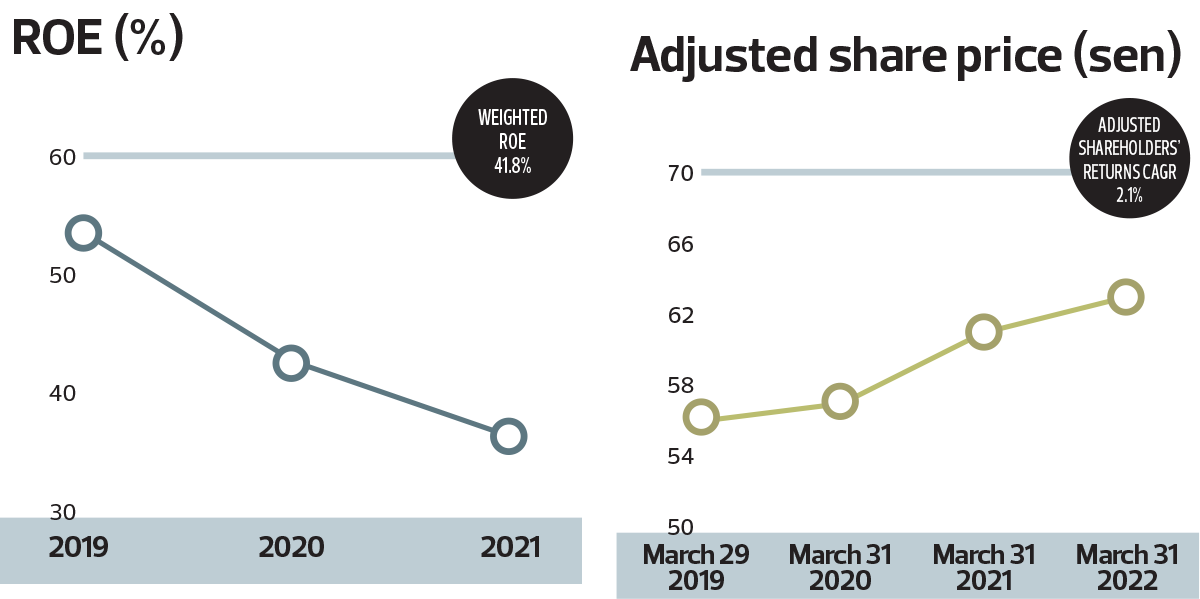 For 1HFY2022, its net profit dipped 2.3% to RM20.59 million from RM21.08 million. As at end-June 2022, it had lower gross borrowings of RM146.5 million, but its net debt came in higher at RM47.2 million compared with end-March 2022.
SEGi declared a first and final single-tier dividend of one sen per share for FY2021.
Between March 31, 2019, and March 31, 2022, SEGi's share price was up about 13%. The counter closed at 63.5 sen on Sept 5, 2022, giving the education group a market capitalisation of RM778.1 million.
SEGi has identified key strategic areas, particularly in globalisation, digitalisation and diversification, to realign its entire learning ecosystem to ensure students' needs and experiences are continually enabled and enhanced. This includes the creation of more digital-related programmes and hybrid delivery of classes.
Besides reviewing the curriculum geared towards achieving its IR4.0 goals, SEGi has introduced micro-credential flexible learning programmes to allow working adults to upskill themselves.
"The Covid-19 pandemic has changed the human capital market's demands. In response, SEGi has new innovative ideas to maintain a high employability rate among our graduates. Among our efforts is providing skills enrichment and support to students. There are over 100 SEGi Enrichment Programmes in leadership, communication and grooming skills, among others, to enhance students' learning experience and achieve skills certification," it said in its 2021 annual report.
Notably, micro-credentials present a new avenue for higher education to students, especially working adults. SEGi offers over 166 micro-credential programmes in fields such as business, education, IT, communications and hospitality.
It believes that the hybrid learning model, which combines online and face-to-face classes, will continue to be a significant learning method in higher education post-pandemic.
In the QS World University Ranking 2022 published on Nov 2, 2021, SEGi University achieved the overall QS 5 Stars Plus status for attaining QS 5 Stars rating in eight evaluations. It was one of only 19 universities worldwide and one of only two Malaysian universities to have achieved this acclaim.
Group managing director Tan Sri Clement Hii Chii Kok is the largest shareholder of SEGi. Besides holding a direct stake of 32.04%, he also has an indirect stake of 37.49% through Pinnacle Heritage Solutions Sdn Bhd.
Early this year, SEGi quashed speculation of a possible sale of the company to a Chinese party. The disposal talk surfaced in February 2020 when Hii said the education outfit had received some inquiries from interested parties.