Highest growth in profit after tax over three years
INDUSTRIAL PRODUCTS & SERVICES
Samchem Holdings Bhd - Beating the odds with focus and agility
Cheryl Poo / The Edge Malaysia
September 26, 2022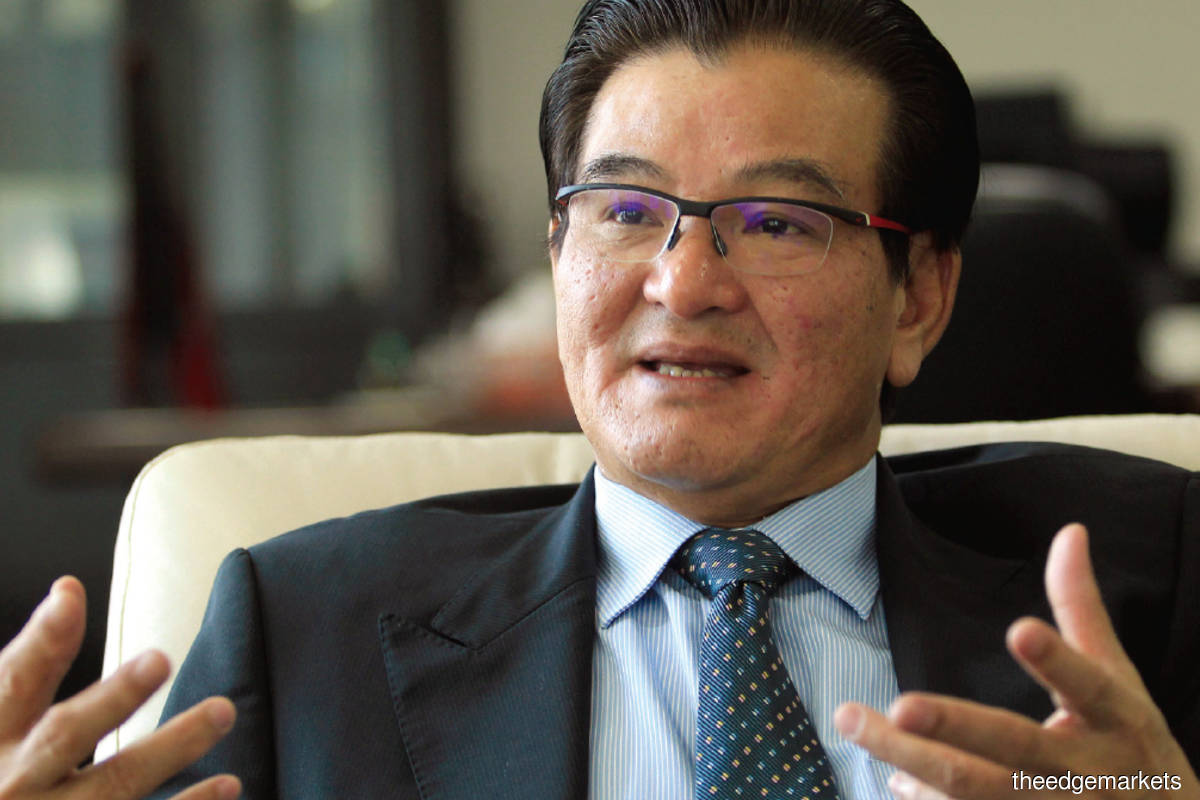 This award [Centurion of the Year] is totally unexpected. It will be a source of inspiration for all of us."
Integrated chemical and lubricant distributor Samchem Holdings Bhd, which was recognised as the best company with a market capitalisation of under RM1 billion at The Edge Malaysia Centurion Club Corporate Awards 2022 and named Centurion of the Year, started as a small chemical distributor in 1989.
Growing steadily, the company — which made its debut on the Main Market of Bursa Malaysia in June 2009 — has been expanding its business locally and regionally with the acquisition of companies, as well as by growing its portfolio of products from existing principals.
Today, the company has subsidiaries across Southeast Asia and continues to expand its network in the region. Its core business continues to be chemical distribution, supplying some of the world's major petrochemical companies, including Shell, BASF, ExxonMobil and Petroliam Nasional Bhd, as well as speciality chemical manufacturers such as Mitsui and Afton.
The chemicals are used in a broad range of industries such as automotive, manufacturing, construction, packaging and agriculture, and include those in personal care, household items, industrial cleaning products, paints and inks.
As Samchem continues to grow, so do its service offerings, which now include complementary value-added services along the supply chain of its customers, such as logistics, warehousing, bulk-breaking and customised blending services for specific applications. The company has also set up a support hub comprising its Johor and Singapore operations that serve as a distribution channel to the rest of Asia.
Samchem's growth story is one of resilience and adaptability, as the industrial chemical distributor has proved during challenging market conditions brought on by the Covid-19 pandemic and geopolitical tensions, which resulted in severe supply chain disruptions.
According to its 2021 annual report, long lead times, port congestion and elevated shipping costs called for a rapid response from the company to meet its customers' orders, and within the shortest delivery time frame. It delivered to essential sectors and intensified its focus on sectors that remained operational during the various lockdowns.
Samchem's efforts paid off as the company gained market share and penetrated new market segments. The company, which made a net profit of RM21.4 million in its financial year 2018 (FY2018), saw its net profit climb to RM23.8 million in FY2019, which then jumped 71% to RM40.7 million in FY2020.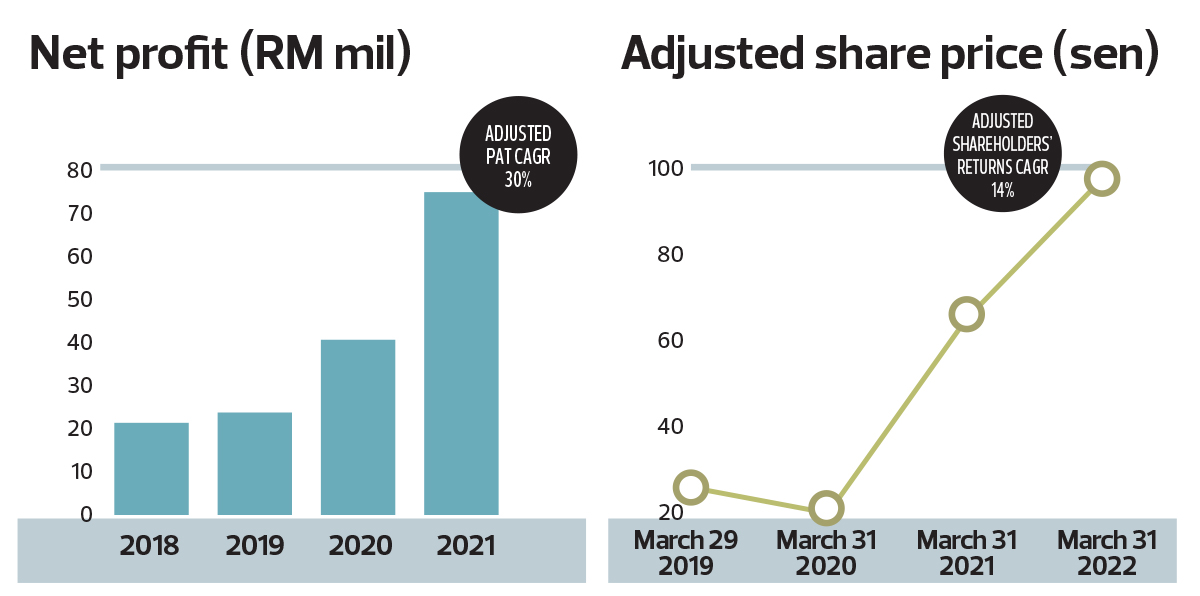 In FY2021, the company delivered its best revenue and earnings performance to date, as its bottom line surged 84.3% to RM75 million while revenue rose 34.3% to RM1.41 billion, thanks to the upward trend in global chemical prices amid the disruptions, as well as a broader earnings base from its new products, new customer segments and an extended range of value-added offerings. Its margin improved to 5.34% in FY2021 from 3.8% in FY2020.
The gains recorded over the past three years collectively translate to an adjusted compound annual growth rate of 30%, which helped the company bag the award for Highest Growth in Profit After Tax Over Three Years under the industrial products & services category, an achievement it shares with CB Industrial Product Holding Bhd and CSC Steel Holdings Bhd.
Samchem executive chairman and CEO Ng Thin Poh, who was beaming from ear to ear at the gala dinner on Monday (Sept 19) following the company's twin wins, dedicated the awards to the whole team at Samchem, who have helped steer the company from strength to strength.
"This award [Centurion of the Year] is totally unexpected. It will be a source of inspiration for all of us," said Ng, who holds a 45.78% stake in the company.
During the evaluation period, Samchem delivered a return on equity (ROE) of 15.7% for FY2019, 23.6% for FY2020 and 34.6% for FY2021, which translates to a weighted ROE of 27.5%, making it the third-best performer in the sector it is in.
The company ended FY2021 with higher cash and bank balances of RM85.62 million, up from RM78.92 million in FY2020, and a healthy gearing ratio of 0.52 times. It declared dividends totalling RM21.8 million for FY2021, almost double the RM11.4 million it paid out in FY2020.
Geographically, Vietnam was its largest contributor in FY2021, as it accounted for 47% of its total revenue, with profit before tax (PBT) contribution of 48%, the company reported. Malaysia came next as it made up 39% of its total revenue and 37% of its PBT, followed by Indonesia (13%; 14%) and Singapore (1%; 1%).
For 1HFY2022, the company recorded a net profit of RM37.8 million, down slightly from RM38.19 million amid narrower margins, though revenue grew to RM731.18 million from RM702.26 million on higher average selling prices.
In announcing its 1HFY2022 results, Ng said Samchem remains committed to growing its capacity with the imminent completion of its Pulau Indah warehouse in Selangor and its Vietnam expansion, which will commence operations early next year.
"This will fortify our position going into 2023 as we look to expand into new segments with new additions to our product portfolio. We believe our reliability as an integrated supply chain distributor along with our robust supplier relationships and strong commercial execution will continue to deliver growth in the coming years," said Ng.
The new warehouse it is building in Pulau Indah Industrial Park, Klang, will see a consolidation — and doubling — of its distribution activities in the Klang Valley. In Vietnam, it is building a new warehouse for storage and blending activities in the southern province of Long Anh, which is expected to fortify the company's presence while capturing new opportunities in the emerging market. Both warehouses are slated for completion in the fourth quarter of 2022.
In the meantime, the chemical player is planning to further expand the fleet under its bulk logistics business, which was set up in the fourth quarter of 2020, and has been supporting and complementing its chemical distribution business.
Samchem said it is in an advantageous position to be a beneficiary of the resulting transplants out of China amid the escalating trade tensions between the US and China.
"As Malaysia strives to shift to the endemic phase of Covid-19, we are optimistic about the forecast growth [for the country] of 5.5% to 6.5% in 2022. This anticipation is shared throughout the business community, especially in the logistics, construction and agriculture sectors. With the addition of new agencies secured recently and [their] product range into our portfolio, we are poised to benefit from the revival of these sectors," the company said in its annual report.