Highest growth in profit after tax over three years
ENERGY
T7 Global Bhd - Poised for further improvements in O&G activities
Kang Siew Li / The Edge Malaysia
September 26, 2022
After a sharp pull-back in oil and natural gas prices in mid-2020 due to the global Covid-19 pandemic, things are finally looking up for local oil and gas (O&G) players. Crude oil and natural gas prices have shot up and analysts are expecting crude oil prices to remain elevated in the second half of this year and 2023.
This bodes well for integrated energy solutions provider T7 Global Bhd, which last year posted its highest net profit and revenue in five years. In the financial year ended Dec 31, 2021 (FY2021), the group reported a net profit of RM10.6 million, up 34.2% from RM7.9 million in FY2020. It made a net profit of RM7.7 million in FY2019, and RM7 million in FY2018.
The sharp increase in earnings was mainly due to the higher execution of works related to engineering, procurement and construction, as well as increased O&G activities from clients such as Petronas Carigali Sdn Bhd, Repsol Oil & Gas Malaysia Ltd and Carigali Hess Operating Co Sdn Bhd.
T7 Global's net profit grew at an adjusted compound annual growth rate of 7.3% over the past three years, making it a winner of The Edge Malaysia Centurion Club Corporate Awards 2022 for the Highest Growth in Profit After Tax Over Three Years in the energy sector.
And the group's prospects continue to look bright. T7 Global's net profit for the first half of the year (1HFY2022) rose 65.7% year on year to RM5.37 million, while revenue grew 8% y-o-y to RM114.94 million.
Over the years, T7 Global has grown organically as well as through smart partnerships and strategic acquisitions with local and internationally renowned companies. Its operations are organised into three principal business divisions: energy, aerospace and defence, and construction.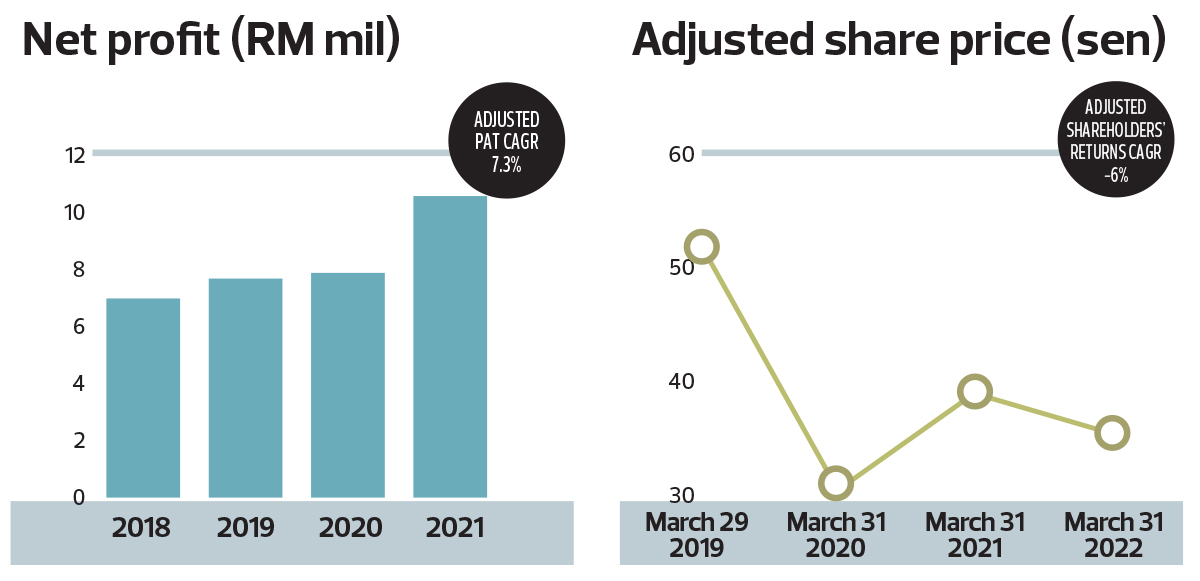 The group's return on equity (ROE) increased to 4.8% in FY2021, up from 4.4% in FY2020 and 4.8% in FY2019. The weighted ROE for the period under review was 4.7%. The group paid a dividend of 0.5 sen per share for FY2021, but did not declare any dividends in the two financial years prior to that.
In announcing its 2QFY2022 results on Aug 25, T7 Global said the recovery in O&G activities in the region has had a positive impact on the group's ongoing projects.
"However, the outlook of the economy remains uncertain due to disruptions caused by the pandemic. Hence, the prospects of the O&G sector remain challenging for 2022. For the T7 Global group, O&G remains the group's core business and the energy division will continue to bid and secure new contracts and be on the lookout for new opportunities," it added.
It has an outstanding order book of RM2.2 billion as at Aug 25, which provides earnings visibility of 10 years to the group. On the aerospace division, it said the industry has been affected by the pandemic and is expected to remain challenging for 2022.
Tan Sri Tan Kean Soon, executive deputy chairman of T7 Global, said the group is optimistic that it will be able to replenish its order book and maintain its growth momentum in 2022 and thereafter.
"Barring any unforeseen circumstances, the group expects to grow its profitability for FY2022. The group will focus on, among others, the completion of the mobile offshore production unit for Bayan Redevelopment Project Gas Phase 2 in offshore Sarawak, which is expected to contribute to the bottom line for the next 10 years," he said in the group's 2021 annual report.
This is in tandem with PublicInvest Research's expectation of further earnings improvement for O&G stocks under its coverage in 3Q2022, on the back of further improvement in sector activities supported by Petroliam Nasional Bhd's commitment towards capital expenditure of RM60 billion for 2022.
"Work orders, particularly in upstream-related activities involving production enhancement, wells and plant maintenance as well as hook-up and commissioning, are expected to increase," the local research firm said in a 2Q2022 results round-up report dated Sept 2.