Highest growth in profit after tax over three years
TECHNOLOGY
VSTECS Bhd - Continuing the legacy of its founders
Liew Jia Teng / The Edge Malaysia
September 26, 2022
Main Market-listed technology firm VSTECS Bhd was founded by the late Foo Sen Chin and the late Datuk Teo Chiang Quan in 1986, following a management buyout of VSTECS KU Sdn Bhd.
The company, which started as a small peripherals distributor, then grew rapidly to become the leading information and communications technology (ICT) distributor in the country. In 2010, the company — then known as ECS ICT Bhd — was listed on Bursa Malaysia.
In 2021, VSTECS faced the loss of both its founders. Teo, the company's first chairman from 2010 to 2015, died in May at the age of 72 after a short illness. About six months later, Foo followed suit. He was 73.
In a letter to shareholders, business partners and associates to commemorate Teo's passing in May, Foo commended Teo for providing VSTECS valuable advice and guidance on good corporate governance, strategies and directions in ensuring sustainable profitable growth for the company. "We shall always remember Datuk Teo's immense contributions to our group and his strong principles of integrity, trust and respect. I shall cherish the memories of our partnership and friendship for over 35 years," he wrote.
As for Foo, he would always be remembered as "an inspiring mentor and friend" by those who worked with him. "His legacy is all around us and we will honour his memory by continuing the work he had so much passion for," VSTECS said in an announcement of his passing on its website.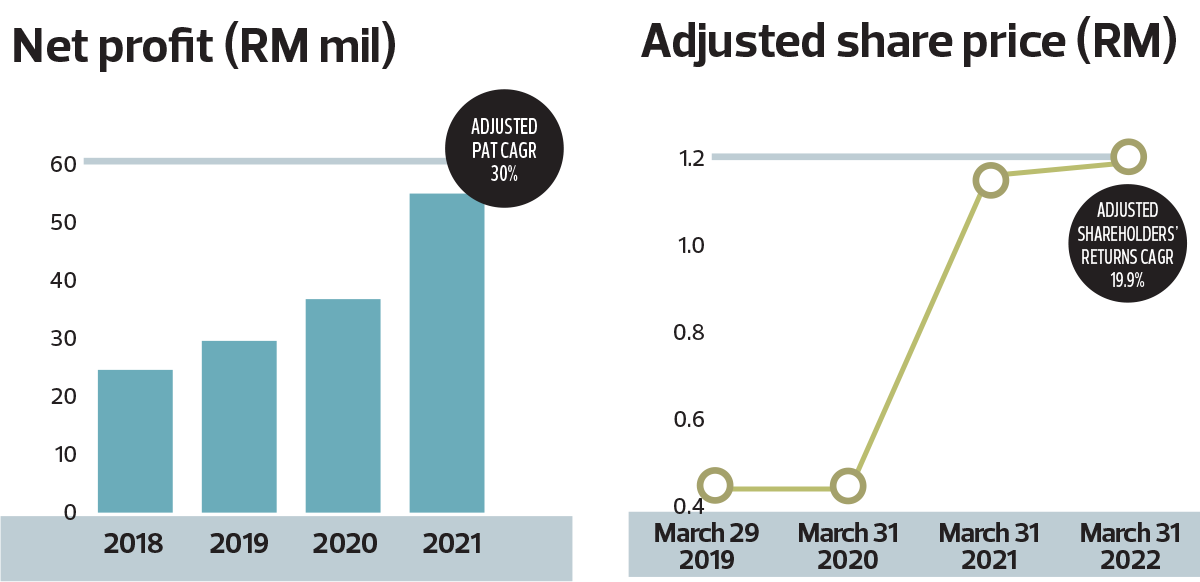 Both founders would have been very proud of VSTECS' latest achievement, as the group — under the leadership of its CEO Soong Jan Hsung — has just been crowned the Centurion winner for Highest Growth in Profit After Tax Over Three Years in the technology sector.
VSTECS achieved a net profit of RM29.6 million in the financial year ended Dec 31, 2019 (FY2019) — up 20.3% from RM24.6 million in FY2018. Its net profit then grew 24.3% to RM36.8 million in FY2020 and rose a further 49.5% to RM55 million in FY2021. The strong earnings growth over the past three years translated into a compound annual growth rate (CAGR) of 30%.
VSTECS' sturdy financial performance was attributed to strong consumer buying trends, which drove the group's ICT distribution segment, as well as the ramp-up in digitalisation efforts by businesses, which propelled its enterprise systems division.
VSTECS distributes a comprehensive range of ICT products to more than 40 principals through a nationwide network of more than 4,600 resellers comprising retailers, system integrators and corporate dealers.
For the first half of FY2022, the group continued to record earnings growth, with its net profit rising 10% to RM24.89 million from RM22.62 million in the previous corresponding period, as revenue strengthened to RM1.35 billion from RM1.23 billion, according to its unaudited results filed with Bursa.
In an interview with The Edge in September 2021, Soong said VSTECS was looking to revive its cloud business, which had been in hibernation for years. "We started to see many indications that many companies were looking for tools available in the cloud such as data analytics and artificial intelligence tools and applications, which could help their businesses in the new normal," he said.
Soong revealed that VSTECS had been working with three hyperscalers and public cloud providers, namely IBM, Microsoft Azure and Alibaba Cloud.
VSTECS is an associate of VSTECS Holdings (Singapore) Ltd — one of the largest ICT distributors in Asia-Pacific and is held by Hong Kong-listed VSTECS Holdings Ltd.
As at March 21, VSTECS was 43.15%-owned by VSTECS Holdings (Singapore), 12.38%-owned by the late Foo's estate and his widow Lee Marn Fong @ Wu Marn Fong, and 8.63%-owned by Dasar Technologies Sdn Bhd. Other prominent shareholders include Melco Holdings Inc and Kenanga funds.
Over the past 12 months, VSTECS' share price had declined 27% to close at RM1.03 on Aug 19, valuing the company at RM370.8 million. The counter is currently trading at a historical price-earnings ratio of 6.7 times.