Highest growth in profit after tax over three years
FINANCIAL SERVICES
Insas Bhd - Riding on market sentiment
Adeline Paul Raj / The Edge Malaysia
September 26, 2022
Insas Bhd, a diversified group that wholly owns stockbroking firm M&A Securities Sdn Bhd, did particularly well in the financial year ended June 30, 2021 (FY2021), thanks to a retail boom in the stock market.
Its net profit that year jumped 1,525% to RM242.2 million from RM14.9 million in the previous year, as it earned higher brokerage and corporate advisory fee income. It recorded a 44.6% increase in revenue to RM285.6 million from RM197.5 million.
That strong performance got Insas named as winner of the Highest Growth in Profit After Tax Over Three Years under the financial services sector at The Edge Malaysia Centurion Club Corporate Awards 2022, with a PAT compound annual growth rate (CAGR) of 22.5% in the FY2018-FY2021 evaluation period. Insas and Kenanga Investment Bank Bhd are joint winners in this category.
The FY2021 rebound more than made up for the 81.8% year-on-year net profit slump to RM14.9 million it saw in FY2020, when the Covid-19 pandemic struck, following the 9.6% y-o-y net profit dip to RM81.8 million prior to that, in FY2019.
Insas, which was set up as a private limited company in January 1961 under the name Paper Products (Malaysia) Ltd, has evolved significantly over the decades. Listed on the local stock exchange in June 1969, it assumed its present name in October 1987.
Today, its key business divisions are: (1) financial services, credit and leasing; (2) investment holding and trading; (3) technology and information technology-related services; (4) retail trading and car rental services; and (5) property investment and development. The bulk of its revenue comes from the first two divisions.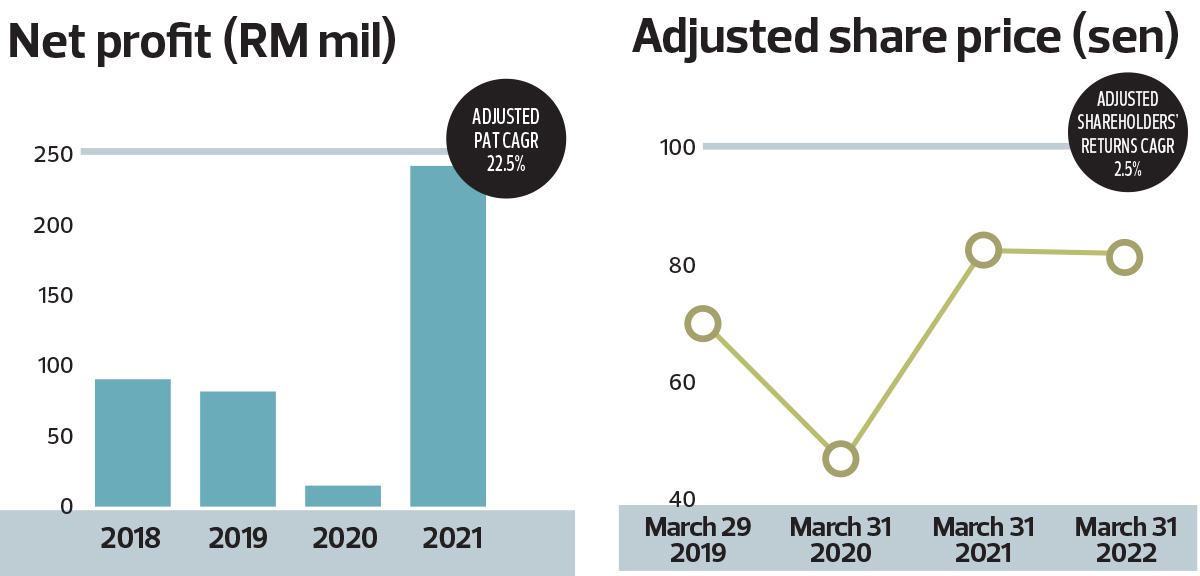 Insas is the flagship company of media-shy businessman Datuk Seri Thong Kok Khee. He is the single largest shareholder, with a 25.05% stake.
In August this year, the group announced that its net profit for FY2022 had decreased 16.5% to RM216.1 million, from a restated net profit of RM257.6 million in FY2021. (The restated net profit was due to gains arising from its reduced effective interest in associate company, Inari Amertron Bhd.)
Insas is the largest shareholder of Inari Amertron, which is in the electronic manufacturing services industry, with an indirect stake of 14.5% as at July 18. It also has an indirect stake of 26.3% in Divfex Bhd (formerly known as Diversified Gateway Solutions Bhd) as at July 12. Divfex is in the business of information and communications technology.
Industry observers note that the group's fortunes, going forward, will continue to be largely dictated by market sentiment.
Nevertheless, Insas is of the view that it is resilient. "The board [of directors] will continue its vigilance to navigate the group through the ongoing challenging and competitive environment amid the war in Ukraine and the disruptions in global supply chains, increase in interest rates and global inflation, which [have dampened] economic growth and affected the investors' confidence in the global financial markets," it says in its latest financial statement.
And while it is cautious on the outlook for M&A Securities, it expects the business to "remain positive" in FY2023 due to a projected strong performance from the corporate advisory business. Its stockbroking business, however, is likely to be impacted by a global bearish outlook for financial markets.
On Oct 6 last year, Insas unveiled plans to unlock the value of M&A Securities via a reverse takeover exercise that valued the company at RM222 million. It is expected to assume the listing status of furniture maker SYF Resources Bhd, which will be renamed M&A Capital Bhd.
However, it may take a while yet before this exercise happens as Insas, in a stock exchange filing on July 1 this year, said the parties have agreed to extend the conditional period of their share sale and purchase agreement to Jan 4, 2023.
In FY2022, Insas' financial services, credit and leasing division made a higher profit of RM34.7 million compared with RM31.5 million a year earlier, while its investment holding and trading division registered a loss of RM59.1 million compared with a profit of RM49.9 million the year before.
Its share price has shed 17.5% this year to 80 sen as at Aug 29, giving the company a market capitalisation of RM530.4 million.