Highest return on equity over three years
PROPERTY
Paramount Corp Bhd - Returns boosted by divestment gains
Intan Farhana Zainul / The Edge Malaysia
September 26, 2022
Like many other businesses, property developers were badly hit by the Covid-19 pandemic that started in early 2020. While buyers postponed their purchases due to economic uncertainties, development projects faced delays due to the various movement restriction orders that were imposed by governments all over the world to curb the spread of the pandemic, which caused severe disruptions to global supply chains.
Despite these challenges, Paramount Corp Bhd managed to come out on top in terms of return on equity (ROE) in the last three years, thanks to the disposal of its education arm.
ROE is a measure of a business' profitability in relation to its equity, also known as net assets. It is a measure of how well a company uses its assets to generate earnings growth.
Paramount posted an ROE of 9.4% in FY2019. It surged to 37.9% in FY2020 following the record high net profit of RM486 million it achieved that year — up 367% from the RM104 million it made in FY2019 — following the RM462.7 million disposal gain it made from the sale of its controlling stakes in its pre-tertiary education business. Its ROE then dropped to 2% in FY2021.
These gains translate to a three-year weighted average ROE of 14.2%, making Paramount the winner of Highest ROE Over Three Years for the property sector at The Edge Malaysia Centurion Club Corporate Awards 2022.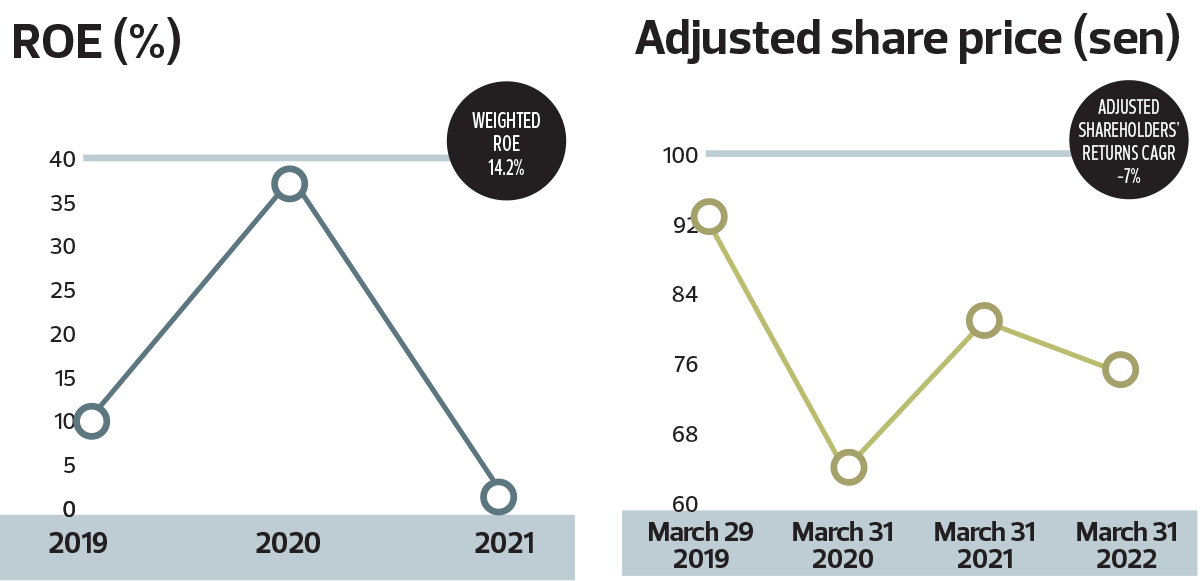 Following its record high FY2020 earnings, Paramount paid out a total dividend of 31.5 sen per share to shareholders, including a special dividend of 29 sen paid in April 2020 from the divestment of the pre-tertiary education business.
After the divestment of its controlling stakes in the education business, the group — which started as a humble rice miller (incorporated as Malaysia Rice Industries Bhd in 1969) and listed on the then Kuala Lumpur Stock Exchange in July 1971, before venturing into property development in 1978 — made its way into fintech, with the acquisition of a stake in peer-to-peer lending platform Fundaztic in 2021.
That, together with the establishment of a co-working space business known as Co-labs Coworking in 2016, is part of the group's five-year strategic plan to identify new sources of earnings.
In FY2021, the company posted a net profit of RM28.5 million, on the back of a 15% increase in revenue to RM681.4 million, with improved contribution from its property division.
In the first half of FY2022, Paramount's net profit almost quadrupled to RM14.13 million from RM3.92 million a year ago, according to its unaudited results filed with Bursa Malaysia, on the back of a 32.67% jump in revenue to RM370.48 million from RM279.26 million.
The top line increase was again driven by the better performance of its property division, which saw a 31% increase in revenue to RM361 million. Its co-working division also contributed higher revenue to the group in 1HFY2022 at RM4.3 million, up 65% from RM2.6 million a year earlier.
In a results briefing held at end-August, Paramount CEO Jeffrey Chew Sun Teong said the second half of FY2022 held better prospects for its business, as economic uncertainties dissipated following the easing of pandemic restrictions, and hoped its upcoming property launches for the period worth RM1.1 billion would receive stronger demand as home-buying sentiment is expected to recover.
Chew also noted that while the rise in the price of building materials and shortage of construction workers had been a drag on the property sector's recovery, he expected the situation to ease when supply normalised in the near term.
Paramount's unbilled sales currently stand at RM1.2 billion. It has 494.8 acres of undeveloped land with an estimated gross development value of RM6.67 billion.