Highest growth in profit after tax over three years & Highest Returns to Shareholders over three years
CONSTRUCTION
Pintaras Jaya Bhd - Beating the odds in a tough market
Kang Siew Li / The Edge Malaysia
September 26, 2022
The Covid-19 lockdowns since early 2020 battered the construction industry, resulting in reduced construction activity. And the industry continues to be hit by factors beyond its control — from supply chain disruptions and labour shortages to the rising cost of raw materials, labour and transport. However, piling and foundation specialist Pintaras Jaya Bhd managed to beat the odds and emerged stronger despite the various challenges.
Notwithstanding the significant adverse impact of the various Movement Control Orders and stop-work orders imposed throughout the pandemic, the group posted a record net profit of RM64.12 million in the financial year ended June 30, 2021 (FY2021) — more than double the RM31.69 million it achieved in FY2020. It made a net profit of RM26.1 million in FY2019.
This was on the back of higher construction works, which made up around 80% of the group's pre-tax profit. Still, its chairman and managing director Dr Chiu Hong Keong said in the group's FY2021 annual report that the company could have performed better if not for Covid-19-related restrictions and the resultant effects, which severely impeded productivity and efficiencies.
Pintaras' net profit grew at a compound annual growth rate (CAGR) of 30% over the past three years, making it a winner of The Edge Malaysia Centurion Club Corporate Awards 2022 for the Highest Growth in Profit After Tax Over Three Years in the construction sector.
Since 2019, Pintaras' success at turning shareholder investments into profits has been impressive. Return on equity (ROE) increased to 18.4% in FY2021, from 9.9% in FY2020 and 8.1% in FY2019. The weighted ROE for the period under review was 13.8%.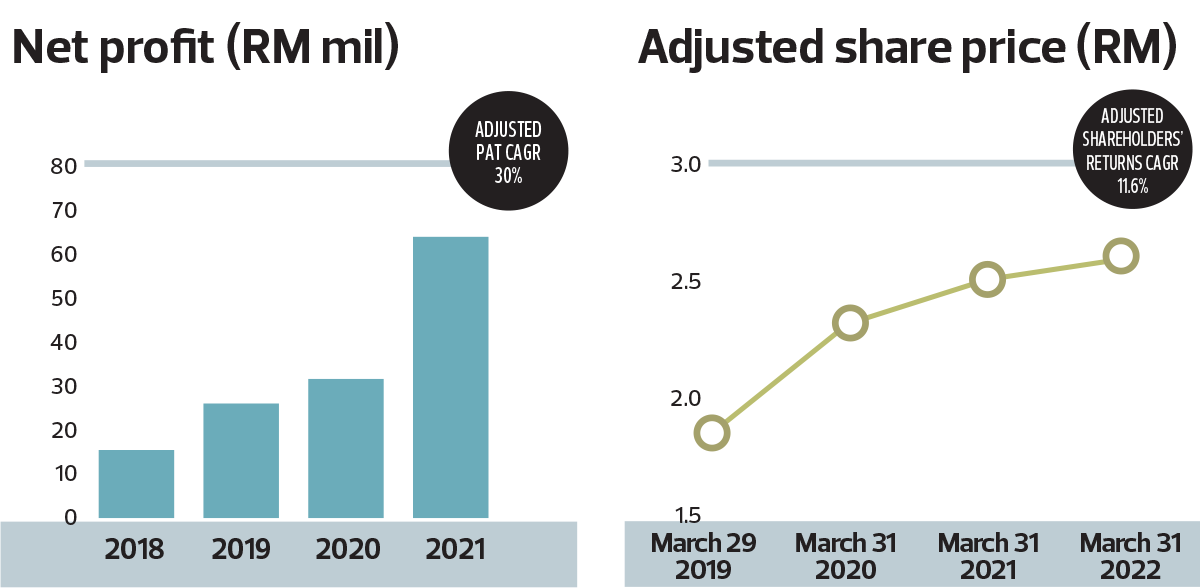 In terms of rewarding shareholders, the group's total shareholder returns stood at 11.6% over the last three years, topping its peers and bagging it the Highest Returns to Shareholders Over Three Years Award. Pintaras declared a dividend of 10 sen per share for FY2021 — similar to that for FY2020, but down from the 20 sen per share it paid for FY2019 — as the group wanted to conserve cash to help it face uncertainties and expected challenges in FY2022.
The group expects it will continue to face high material, fuel and operating costs.
For FY2022, Pintaras saw its net profit fall 36% to RM41.2 million from RM64.12 million in the previous year on lower profit achieved by the construction division and investment losses. This was offset by contribution from the manufacturing of metal containers.
In announcing its 4QFY2022 results on Aug 29, Pintaras is expecting a slow recovery for the construction industry in Malaysia, despite all construction activities having resumed as the country shifts into the endemic phase. This is due to formidable headwinds such as huge increases in the cost of raw materials, fuel and labour.
"The impact of labour shortages has been devastating to our productivity and directly results in higher operational costs and project delays. Businesses need urgent proactive government action to mitigate the adverse impact of foreign labour shortages. At this point, we can only hope the labour problem will ease in 2023. That are signs that material and fuel prices have peaked and moderated, providing some relief," it said.
The group also expects some consolidation activities in the piling industry going forward, which should be positive for its business.
Pintaras' construction order book stood at RM240 million at end-June, which should support its earnings in FY2023.
On the manufacturing front, it expects the metal container operation to continue to provide the group with a steady source of income based on stable domestic demand and increasing exports. It will be upgrading some of its equipment with a view to improving its top line sometime in late FY2023, it added.
The group expects its performance for FY2023 to be tough and challenging.