Highest return on equity over three years & Highest growth in profit after tax over three years
TELECOMMUNICATION, MEDIA & UTILITIES
REDtone Digital Bhd - Commendable double-digit earnings growth
Cindy Yeap / The Edge Malaysia
September 26, 2022
REDtone Digital Bhd, a home-grown provider of telecommunications and digital infrastructure services, started out in 1996 as a provider of voice services and made its debut on the ACE Market in 2004 as REDtone International Bhd.
Now a subsidiary of Berjaya Corp Bhd, REDtone became an associate of Berjaya Corp in December 2014 when the latter, via its wholly-owned Juara Sejati Sdn Bhd, raised its stake to more than 20%, from 12.39%. At the time, REDtone had just bagged an RM88.57 million contract from the Malaysian Communications and Multimedia Commission to build, operate and maintain radio access network infrastructure (RAN) in rural areas in Sarawak and Johor.
Berjaya Group founder Tan Sri Vincent Tan Chee Yioun, who bought into REDtone in 2008, also owns 22.31% in unlisted mobile network operator U Mobile, which in late August 2022 decided not to take up a stake in Digital Nasional Bhd, which is building Malaysia's 5G single wholesale network. The Sultan of Johor, Sultan Ibrahim Sultan Iskandar, who is the second-largest shareholder in REDtone, with 17.34%, is also the second-largest shareholder of U Mobile, with a 22.31% stake, after Singapore's ST Telemedia Pte Ltd, with 48.26%, according to CTOS data.
Closing at 42 sen on Sept 5 with a market capitalisation of RM324.6 million, REDtone's share price had skidded about 38.24% from its 52-week high of 68 sen (RM525.6 million) on Nov 2, 2021, but was hardly changed year to date. During the evaluation period of March 31, 2019, to March 31, 2022, for The Edge Malaysia Centurion Club Corporate Awards 2022, REDtone's share price rose from 27.1 sen to 41.5 sen, translating into a total return of 38.3%, Bloomberg data shows. The three-year adjusted total return was only 3.9%, according to the awards methodology. Nonetheless, REDtone performed much better relative to its peers on earnings, as well as on return on equity (ROE).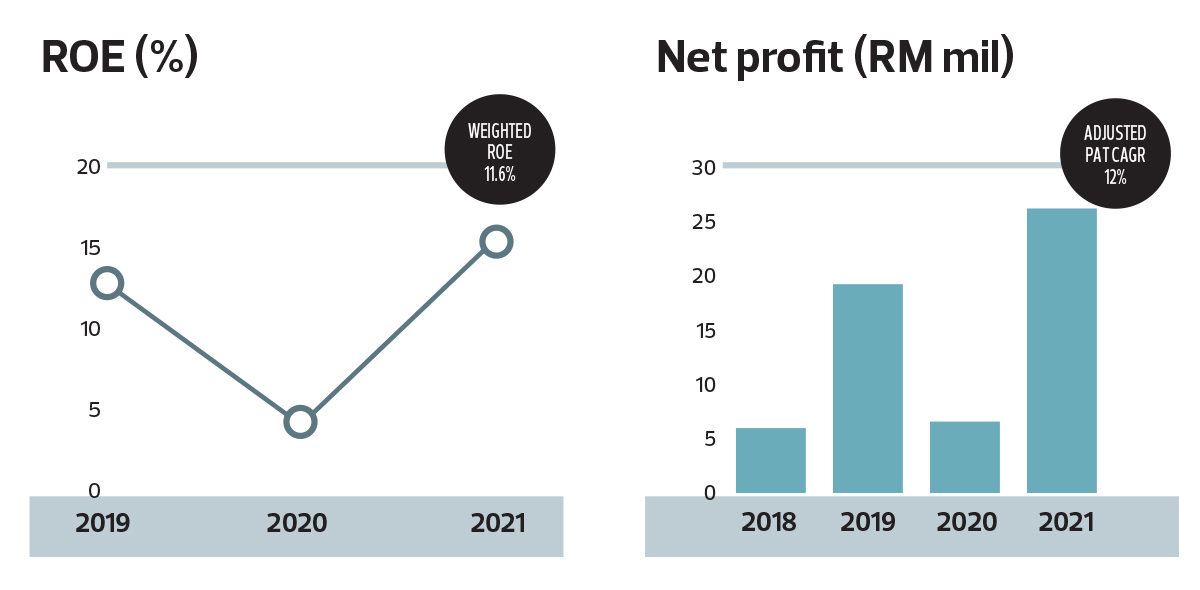 For the financial year ended June 30, 2021 (FY2021), REDtone registered a net profit of RM26.29 million, four times the RM6.61 million booked in FY2020 and the RM5.97 million recorded in its FY2018 ended April 30, 2018. Its FY2021 net profits also exceeded the RM22.5 million booked in the 14 months ended June 30, 2019 (FY2019), when its financial year-end was changed to June from April.
The numbers reflect an adjusted three-year compound annual growth rate (CAGR) of 12% between FY2018 and FY2021, according to the awards methodology, making REDtone's adjusted net profit growth the highest among The Edge Malaysia Centurion Club member companies in the technology sector.
REDtone's weighted ROE of 11.6% between FY2018 and FY2021 was also the highest among the member companies in the technology sector, bagging the company a second Centurion sectoral corporate award.
According to unaudited results, REDtone's net profit came in at RM38.87 million for the financial year ended June 30, 2022 (FY2022), up 47.9% y-o-y, despite a 9.5% decline in revenue to RM158.04 million from RM174.67 million.
Net asset per share stood at 28.14 sen as at end-June 2022. This includes RM11.76 million intangible assets, RM64.5 million contract assets, and RM44.2 million trade and other receivables.
Trade receivables, which stood at RM37.36 million as at end-June 2022, "consist of mainly progress billing for government projects for the managed telecommunications network services (MTNS) segment, which includes building, maintaining and operating large-scale WiFi hotspots, radio access network infrastructure and fibre-optic infrastructure", according to notes accompanying its unaudited accounts for the fourth quarter ended June 30, 2022.
For FY2022, the MTNS segment contributed RM80.05 million, or 50.7%, of total revenue, compared with RM73.67 million, or 46.6%, by the telecommunications services segment and RM4.3 million, or 2.7%, by its "industry digital services" segment.
Business and operating performance for FY2023 ending June 30, 2023, "will be challenging and competitive, especially for the telecommunications segment" but the group "will continue to adopt measures to improve operational efficiencies and profitability in its core business", REDtone's board of directors said in notes to its unaudited accounts.
The board expects the MTNS segment to "increase its contribution to the group while data services to the enterprise market would continue to be the main segment of growth from recurring businesses".