Highest return on equity over three years
TRANSPORT & LOGISTICS
Harbour-Link Group - Strikes the right chord
Jose Barrock / The Edge Malaysia
November 18, 2019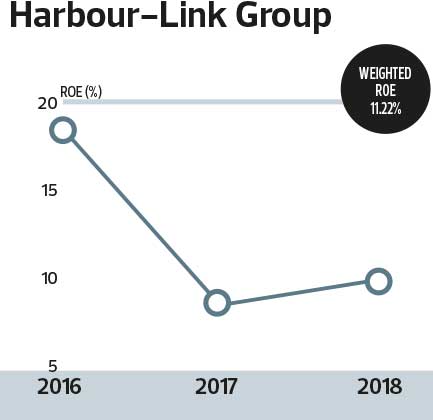 Harbour-Link Group Bhd took home The Edge Malaysia Centurion Club corporate award for highest return on equity (ROE) for the transport sector.
The shipping, marine, integrated logistics, engineering and construction outfit was established in 2002. It consolidated all of the group's business activities under one umbrella and listed on Bursa Malaysia's Main Market on Jan 6, 2004, assuming Tongkah Holdings Bhd's listing status. The company was already a regional Asean player then.
ROE is a measure of the profitability of a business in relation to its equity, also known as net assets or assets minus liabilities. It is a measure of how well a company uses investments to generate earnings growth. In Harbour-Link's case, a stellar performance in 2016 saw the company chalk up an ROE of 18.55%, 8.5% in 2017 and 9.93% in 2018, translating into a weighted ROE of 11.2%, and garnering the company the top award in its category.
In its annual report for the financial year ended June 31, 2019 (FY2019), the company says that "the outlook for the global shipping industry remains negative". The main culprits include an increase in maritime fuel oil prices and a decline in freight rates.
For FY2019, Harbour-Link registered a net profit of RM24.99 million on RM593.95 million in sales. For FY2018 Harbour-Link saw a net profit of RM35.91 million on RM615.8 million in sales, which indicates a dip of 30.41% and 3.5% respectively, year on year.
Harbour-Link says profit was down due to a decrease attributed mainly to the shipping and marine division brought about by higher repair cost, increase in bunker fuel and disposal of two old vessels at scrap value, which resulted in a loss on disposal of RM1.15 million.
It says the board expects a challenging year ahead, especially in shipping and marine services and engineering, as the domestic economy has shown no signs of a stable recovery.
But Harbour-Link seems likely to weather the storm, based on its strong balance sheet. As at end-June, the company had cash and bank balances of RM105.70 million and investment securities of RM17.73 million. Considering Harbour-Link's share base of 400.4 million shares, this works out to 26.4 sen cash per share, which is about 42% of its share price of 63 sen at the time of writing. At 63 sen apiece, Harbour-Link's market capitalisation was RM252.3 million.
To put things in perspective, as at end-June, Harbour-Link's net asset per share was 99 sen.
On the other side of the balance sheet, it had short-term borrowings of RM41.52 million and long-term debt commitments of RM39.99 million. Finance cost for FY2019 was a manageable RM5.25 million. It is also worth noting that, as at end-June, Harbour-Link had retained earnings of RM195.42 million.
While its numbers and balance sheet look good, Harbour-Link's stock has been volatile. The company's 52-week high of 76 sen was on March 14 this year while its 52-week low of 56 sen was on Sept 3, with strong fluctuations in price.
Harbour-Link's largest shareholders are managing director Datuk Yong Piaw Soon and executive director Wong Siong Seh who, via their private companies Enricharvest Sdn Bhd and United Joy Sdn Bhd, have 53.15% equity interest in the Bintulu, Sarawak-based company. Yong has an additional 9.42% stake held directly while Wong has a 5.56% stake held under his own name. There are no other substantial shareholders in the company.
Harbour-Link is an illiquid counter, with the top 30 shareholders controlling 86.14% of its shares, which could explain its volatility.
See the other winners in The Edge Malaysia Centurion Club Corporate Awards 2019 here.