Highest return on equity over three years & Highest growth in profit after tax over three years
TELECOMMUNICATIONS & MEDIA + UTILITIES
Opcom Holdings - Reasonable returns despite tough times
Adeline Paul Raj / The Edge Malaysia
November 18, 2019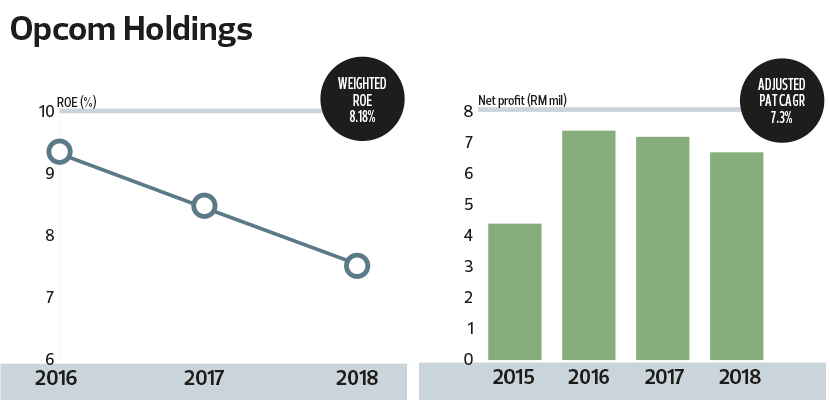 The operating environment for Opcom Holdings Bhd is getting increasingly tough, so it is to the fibre-optic cable manufacturer's credit that it has managed to deliver reasonable returns to shareholders over the last three years.
Opcom's net profit grew a strong 67.1% to RM7.42 million in its financial year ended
March 31, 2016 (FY2016), before falling 3% to RM7.2 million in FY2017 and a further 7.2% to RM6.68 million in FY2018.
Between FY2015 and FY2018, Opcom's net profit posted an adjusted three-year compound annual growth rate of 7.3% — the highest among its peers in the utilities, telecommunications and media sector.
Return on equity (ROE) came in at 9.33% in FY2016, 8.44% in FY2017 and 7.56% in FY2018, with weighted ROE over the three-year period at 8.18%, resulting in the company bagging the top spot among its peers in The Edge Malaysia Centurion Club Corporate Awards 2019.
Moving forward, however, it will be an uphill task for Opcom to show similar growth. Already, its FY2019 net profit has fallen to just RM462,000, given such factors as the rising cost of raw materials, lower industry price levels, ringgit weakness and an influx of cheap imports.
In addition, macroeconomic uncertainties have led to a big drop in demand for fibre-optic cable. Opcom says its selling margins have sharply reduced due to foreign competition and its inability to pass on increased costs to key customers.
Chairman Datuk Mohamed Sharil Tarmizi, who came on board on July 16, acknowledges that FY2019 has been a difficult year for the fibre-optic cable industry in Malaysia. However, he is counting on new businesses to prop up the group going forward.
"Our revenue profile continues to shift away from fibre-optic cables to our new businesses of engineering services, manufacturing of engineered plastics and production and export of thixotropic compounds, which were non-existent five years ago. [These] constituted about 62% of the group's turnover this year. We expect our new businesses to further increase their contribution to the group's revenue in the years to come," he says in the company's latest annual report.
Fibre-optic cable sales accounted for 38% of Opcom's total turnover in FY2019 compared with 50% in FY2018. The group has invested about RM7.1 million in capital equipment for capacity expansion of the thixotropic gel business as well as a new warehouse storage facility.
Mohamed Sharil, the former chairman of the Malaysian Communications and Multimedia Commission (MCMC), took over from Tan Sri Mokhzani Mahathir, who resigned on June 1 after 10 years as the executive chairman, citing personal reasons. Mokhzani is the second son of Prime Minister Tun Dr Mahathir Mohamad.
His younger brother and Kedah menteri besar Mukhriz Mahathir is the largest shareholder of Opcom with a 15.28% stake as at Sept 20.
On Aug 13, Opcom announced that its deputy CEO and co-founder, Chhoa Kwang Hua, would go on a one-year sabbatical from Sept 7 to mark his 25-year tenure with the company. Chhoa's absence presents an opportunity for the company to put its decade-long leadership succession plan into action, it says.
Opcom has had a strong rally on the stock market in recent months, climbing 41% on heavy volume between Aug 28 and Sept 30, on rumours that it would benefit from the National Fiberisation and Connectivity Plan (NFCP) to lay optical fibre cables across the country for faster internet connection.
However, on Sept 24, Communications and Multimedia Minister Gobind Singh Deo told reporters that the NFCP will not result in the government or the MCMC handing out projects to any party.
Opcom expects FY2020 to be a challenging year. "Our export business will continue to maintain its momentum, and we expect the thixotropic gel manufacturing business in Malaysia to be healthy, and the business performance of our UK associate company to be robust as in the preceding years. [We] continue to aggressively rationalise our operating cost to adjust to the weak business operating environment domestically," Mohamed Sharil says in the annual report.
See the other winners in The Edge Malaysia Centurion Club Corporate Awards 2019 here.