Highest return on equity over three years, Highest growth in profit after tax over three years & Highest Returns to Shareholders over three years
FINANCIAL SERVICES
RCE Capital - Keeping profitability on growth path
Esther Lee / The Edge Malaysia
November 18, 2019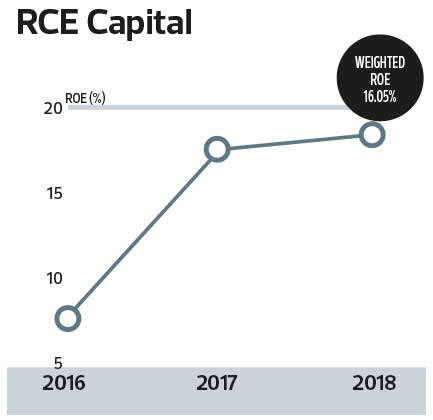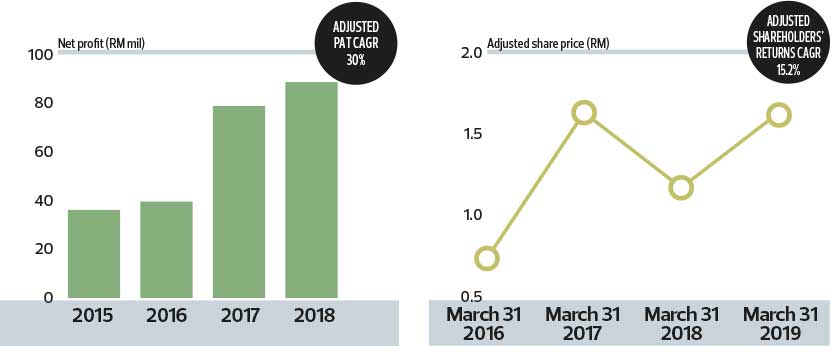 In the inaugural The Edge Malaysia Centurion Club Corporate Awards 2019, RCE Capital Bhd made its mark by emerging as the winner in all three categories in the financial services sector.
RCE Capital, a subsidiary Amcorp Group Bhd, is principally involved in commercial financing, consumer financing and payroll collection business.
Amcorp Group is an investment holding company controlled by banking veteran Tan Sri Azman Hashim and it is a major shareholder of AMMB Holdings Bhd through its 13% stake in the banking group.
As the financial services industry undergoes changes with the emergence of fintech, in addition to the lacklustre economic outlook, RCE Capital has managed to weather the challenges while keeping its profitability growth on an upward trend.
This could be due to the niche it has created for itself in the financial services industry, where it focuses on dispersing personal loans to civil servants, the repayments of which are done through a salary deduction scheme.
Over the last three years, RCE Capital's profit after tax adjusted compound annual growth rate (CAGR) totalled an impressive 30%. This comes on the back of a growing PAT over the last three years. In the financial year ended March 31, 2016 (FY2016), PAT stood at RM39.6 million. In the next year, it doubled to RM79 million and climbed further to RM88.7 million in FY2018.
Among its peers, it also emerged with the highest return on equity with a weighted ROE of 16.1% over a three-year period. It is worth noting that ROE has climbed from a mere 7.74% in FY2016 to 17.59% in FY2017 and 18.46% in FY2018.
In terms of shareholders' returns, RCE Capital has also topped its peers as it scored an adjusted CAGR of 15.2% for shareholders' returns over three years. As at the cut-off date of March 31 this year, RCE Capital's share price stood at RM1.63 apiece, from 73.4 sen on March 31, 2016.
However, the share price seems to have come off a little from its peak recently as it had fallen to RM1.55 as at Oct 29.
In an Oct 29 report, Rakuten Trade says the valuation of the company is attractive at a current price-to-book value (P/BV) of 0.9 times, while dividend yield amounts to 5.8%.
The trading platform adds that there is still ample room to grow its customer base given that RCE's market share is only 5% of the 1.6 million civil servants in Malaysia.
"At present, the average loan size is about RM16,600 with a maximum loan tenure of 10 years," says the report, adding that RCE Capital's asset quality has improved as its gross impaired loans ratio has fallen from 13.7% in FY2013 to 7.4% in FY2019.
Maybank Investment Bank Research says in an Aug 22 report that RCE Capital's gross non-performing loan ratio was stable at 4.41% as at end-June versus 4.38% at end-March. Its credit cost was lower at 1.04% in the first quarter ended June 31 of FY2020 (1QFY2020), versus 1.41% in FY2019. It also has a high loan loss coverage ratio at 168%, above the average 127% seen in the banking industry.
As financial institutions struggle with compressed net interest margins, RCE Capital has managed to keep itself ahead of the pack with its NIMs around 8%, higher than its peers.
For 1QFY2019, RCE Capital's revenue grew 5.9% to RM66.94 million while net profit gained 4% to RM24.12 million. The higher revenue was mainly contributed by the higher interest income says the company.
Maybank IB Research upgraded its call on RCE Capital to "buy" with an unchanged target price of RM1.80.
"Valuations are undemanding with the stock trading at a FY2020E price-earnings ratio of just 5.5 times, and P/BV of 1 times for ROEs of more than 17%. Yields of more than 5% provide support," says the research house.
See the other winners in The Edge Malaysia Centurion Club Corporate Awards 2019 here.