Highest Returns to Shareholders over three years
CONSTRUCTION
Stella Holdings - Restructuring brings back investor confidence
Kamarul Azhar / The Edge Malaysia
November 18, 2019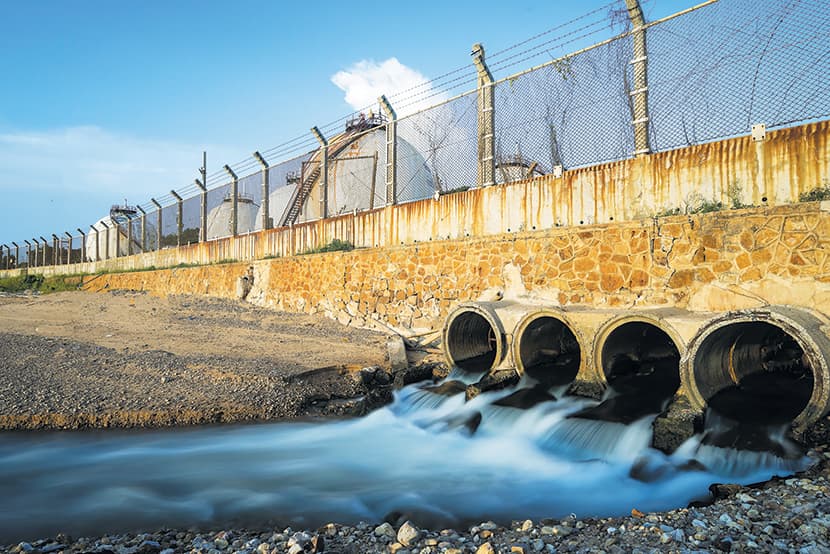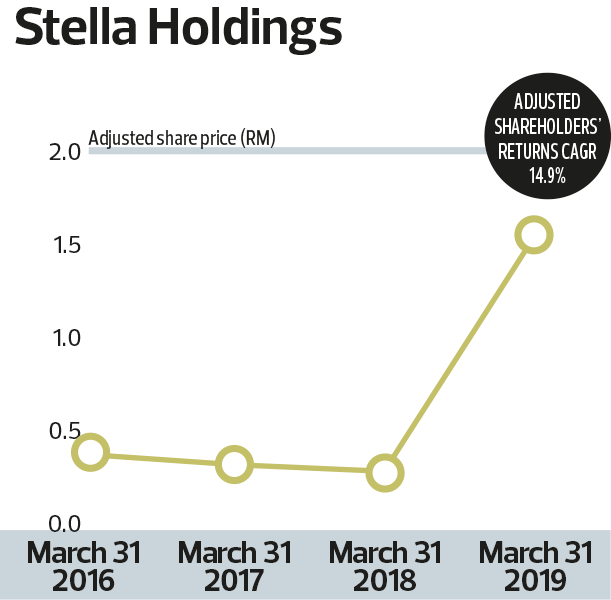 Construction outfit Stella Holdings Bhd (formerly Merge Energy Bhd) is positive about its prospects for the financial year ending March 31, 2020 (FY2020). The group expects to turn a profit by then after two consecutive financial years of losses as it restructures its businesses.
Executive chairman Datuk Mohamad Haslah Mohamad Amin says in its 2019 annual report that the restructuring of the group's businesses as well as diversification into property development will drive its growth.
This is on top of its core business in the construction of water treatment and distribution infrastructure, sewage treatment plants and other specialised infrastructure. The group is also lowering its accumulated losses by reducing its issued share capital.
At the same time, Stella disposed of several parcels of land in Serendah to unlock their value and provide immediate cash flow to be used as working capital for the core construction business.
These restructuring exercises have given shareholders confidence in the group, with its share price rallying to RM1.53 per share on March 29, compared with 28.5 sen on March 31, 2018. During this period, the counter shot up more than 436.8%.
The rally in its share price resulted in Stella being named the construction company with the highest return to shareholders over the last three years in The Edge Malaysia Centurion Club Corporate Awards 2019.
On an adjusted compound annual growth rate (CAGR) basis, Stella's share price grew 14.9% over the preceding three years to March 31, 2019.
The restructuring of Stella came about after Haslah, together with Lee Tian Huat, Datuk Lee Tian Hock and Datuk Tan Gee Swan @ Tan Suan Ching, emerged as controlling shareholders with the acquisition of 43.96 million shares or a 65.5% stake for RM38.68 million on Nov 28, 2018.
This triggered a mandatory takeover offer from the individuals' private vehicles, namely Westiara Development Bhd, Cerdik Cempaka Sdn Bhd, Fine Approach Sdn Bhd and Anjuran Utama Sdn Bhd as well as Tian Hock.
The emergence of the new shareholders has revitalised the company. Besides being Stella's chairman, Haslah is executive chairman of Matrix Concept Holdings Bhd.
Tian Huat is the brother of Lee Tian Hock, founder and executive director of Matrix Concept.
As at July 8, Stella's largest shareholder was Westiara with a 28.53% stake, followed by Cerdik Cempaka with 26.8%, while Haslah had an indirect stake of 6.61%.
Tan, through Westiara, controls Stella while the Lee brothers are the second largest group of shareholders via Cerdik Cempaka.
Stella registered net losses of RM10.4 million and RM4.3 million in FY2018 and FY2019 respectively. The group managed to turn around its fortunes in the first quarter ended June 30, 2019 (1QFY2020), making a profit of RM598,000.
On July 1, its subsidiary Mewah Kota Sdn Bhd received a contract for the extension of water pipes from the Langat 2 water treatment plant to the current water reticulation system for RM26 million from Pengurusan Aset Air Bhd.
On July 4, its other subsidiary, Paramount Ventures Sdn Bhd, entered into a joint venture agreement (JVA) with Mega 3 Housing Sdn Bhd (M3H) for the development of a mixed-use property project in Pasir Panjang, Port Dickson, Negeri Sembilan.
The project is estimated to have a gross development value (GDV) of RM75.3 million and estimated gross development profit of RM26.18 million. Note that one of the ultimate offerors, Tan, is a shareholder of M3H.
Paramount Ventures also entered into a JVA with AMNI Corp (M) Sdn Bhd on Aug 27 to develop a residential development project at Batu 6, Kuala Kuantan, in Kuantan, Pahang. The project is estimated to have a GDV of RM40 million.
See the other winners in The Edge Malaysia Centurion Club Corporate Awards 2019 here.