Highest return on equity over three years
PLANTATION
Innoprise Plantations - Hidden gem among planters
Esther Lee / The Edge Malaysia
November 18, 2019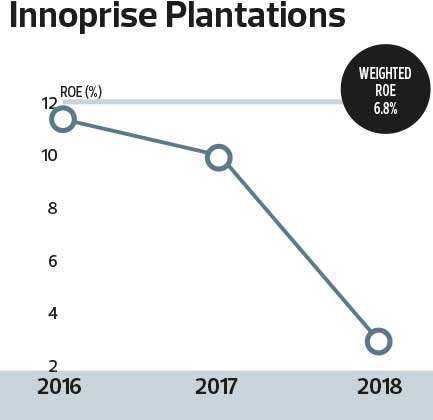 Sabah-based Innoprise Plantations Bhd is unlikely to be the first company to be mentioned when talking about the plantation sector, although it has been listed on the stock exchange for more than a decade.
The 50.22%-owned subsidiary of Yayasan Sabah made its debut on the Kuala Lumpur Stock Exchange (now Bursa Malaysia) in 1996.
Its plantations are located in Kalabakan, Sabah, and it is currently planting and developing of 22,763ha, of which about 12,500ha are suitable for oil palm cultivation.
The company is also working towards earning Roundtable for Sustainable Palm Oil (RSPO) certification and is committed to becoming an environment and community friendly organisation.
In terms of tree profile, Innoprise Plantations' palms are between 1 and 11 years old. Some 8% of the palms are immature, 35% are young mature (four to seven years old), which means increasing yields in the coming years, and 57% are prime mature (eight years or older). This negates the necessity to replant for the next 15 years.
It is also worth noting that among its peers with a market capitalisation of under RM1 billion, Innoprise Plantations posted the highest weighted return on equity (ROE), of 6.8%, over the last three years.
However, the company's ROE was on a downward trend in the last three years as earnings were dragged down by the low commodity prices that have plagued planters in recent years. Its ROE stood at 11.39% in FY2016, dipped to 10.01% in FY2017 and crumbled to 3.04% in FY2018.
In FY2018, Innoprise Plantations' net profit fell a whopping 69% year on year to RM9.46 million. It attributed the plunge in earnings to the lower average selling price of both crude palm oil (CPO) and palm kernel (PK).
The company's revenue was also affected in FY2018, declining to RM114.22 million from RM138.21 million in FY2017.
The planter's results for its second quarter ended June 30, 2019 (2QFY2019), show it slipping into the red. It posted a net loss of RM2.22 million, compared with a net profit of RM2.36 million in the previous corresponding period, on revenue that fell to RM23.8 million from RM27 million previously.
The company blames the deterioration on the lower average selling price of CPO and PK, although their volumes rose on higher production of fresh fruit bunches (FFB).
However, Innoprise Plantations expects FFB production to increase in the coming quarter due to seasonal factors. "Based on current palm product prices, group performance in the coming quarter will be challenging. Management will continue to focus on efficiency and productivity to control production cost," it says in its second-quarter performance announcement.
Still, there is a glimmer of hope for Innoprise next year. Industry experts believe there will be lower production growth going forward, which will bolster CPO prices.
It is worth noting that since 2015, new plantings in Malaysia and Indonesia have slowed down significantly, which will impact FFB production growth as early as next year, thus tightening the supply of CPO.
Apart from that, many see the higher usage of palm oil in biodiesel as a catalyst for the sector and prices. Indonesia recently announced plans to raise its biodiesel mandate to B30 by 2020 and B50 by 2021.
This is viewed positively by plantation analysts as it is expected to boost palm biodiesel, which will, in turn, raise CPO prices.
See the other winners in The Edge Malaysia Centurion Club Corporate Awards 2019 here.